Dear Parents,
A 4 day week and lots packed in with a wonderful experience for our students on Tuesday with the Amazing Animals and 'Magical Beasts' visiting BISL. Our students loved the opportunities to play with, learn about and explore further with the visiting animals. Linked to this were excellent explanations and interesting knowledge shared by the experts about the animals and this really stretched the students in regards to their own understanding. It was a perfect fit for the science block and a great event to host at BISL.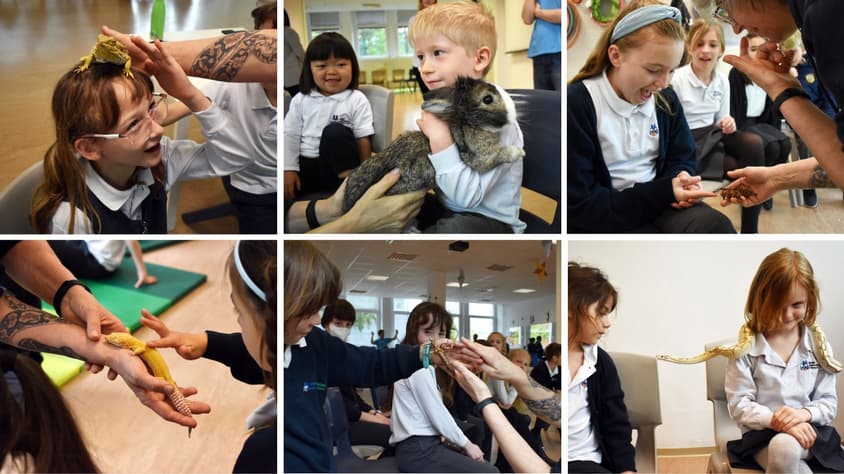 An update on the Performance Theatre, the stage curtain rail is being installed and we await the addition of the back curtains which will make the stage look fantastic! - added to this, we have a brand new drum kit and other music resources that have just arrived at the school. Exciting and 'loud' times ahead!
A reminder that Open Day is Wednesday 4th May, everyone is invited to walk around the school and see how our students learn in class with our amazing teachers.
Our International Day opening ceremony starts in 13 days!- we are all very excited and our decorations have gone up this week as we build up towards this. This year we have world champion dancers performing, a food fair, competitions, music performances and much more!
A quick note to thank everyone for your kind donations for the Earth Day drive. It is very much appreciated.
During the block break, we will send out information regarding the teachers for next year, the class teachers for each year group in Primary and also include the profiles for new staff joining BISL. It is a time of mixed emotions as I am leaving at the end of the term, sad to move on but extremely happy to see the school continuing to grow, the students having more amazing experiences and the very high standards that we have at school. It is an absolute pleasure to see the return of the on-site events this term and our students have thoroughly enjoyed themselves, which is the most important part of what we do!
A 3 day weekend to look forward to, I hope you can relax, rest and recharge with our beautiful summer weather approaching. I'm going to try and get outside as much as possible and enjoy some of the wonderful countryside. Enjoy.
Have a great weekend!
Paul Walton
Principal
Thank you to all the parents who have volunteered to run country stalls with delicious food and fun activities for our students on Friday May 13 for our popular International Day Fair. It is promising to be another fantastic annual celebration and I hope to see many of you there!
You'll find more details here, and further details will follow.
Should you wish to get involved, please contact pta@britishschool.si directly.
Teacher Feature - Ms Strmčnik
As part of our Science block celebrations, this week's Teacher Feature brings you a fun interview with Ms Prohart Strmčnik from our Science department - a delightful read over the long weekend.
As we head into the warmer months, if you'd like to place an order for Summer Uniform, you can do so online through Trutex with ease. Click on the link below for details.
Ongoing daily clean of premises

Classrooms are well ventilated and classroom doors remain open
Key areas are cleaned multiple times a day (reception, classrooms, bathrooms, bannisters, door handles, etc.)
Declaration Form to be signed by all key visitors
Extra resources for hygiene available (sprays, wipes, gels, hand sanitisers, masks etc.)
Temperature checks when required
School Nurse available (full time)
Coronavirus Prevention guidance posters displayed around school
Smaller classes where necessary
Lunches and snacks are served in the new canteen following the guidance from NIJZ
Staff and parent meetings and events to be held online
Daily review of all procedures by the Leadership Team
All urgent updates continue to be sent via email.
Please monitor your emails for future updates as this continues to be the best way to send out clear and consistent communication to all parents. Check that you are receiving emails, have enough space in your email folder, that they do not go to your 'junk' folder and if you are unsure, please contact reception@britishschool.si to check your contact email and phone number on record.
If you change any contact details, please inform the school immediately.