Dear Parents,
The snow has arrived!
We have had a wonderful time this week - the students have really enjoyed playing in the snow and we encourage everyone to get outside as much as possible to take advantage of the fresh air and beautiful conditions. I arrived at 5.40am yesterday morning and the snow looked amazing. Please check out the images below to see how wonderful the school grounds look and how much fun our students have been having these past 48 hours! Slovenia is truly a wonderful place to enjoy this winter season.

We are delighted to have been awarded the BELL Foundation Accreditation. This is an award for the provision of English and EAL (English as an Additional Language) across the school and we are delighted with being the first international school to achieve this. All schools in the Orbital Education group and many across the world are going for this award to gain recognition for their EAL provision, to follow a framework to improve what they offer and to have a worldwide benchmark. A special thank you to Mr. Siter who has organised this accreditation and also to all staff at school for their support towards developing the English level of all BISL students each and every day. We will receive the full report, award and certificate in the next 4-5 weeks. A great way to finish the year!
Thank you to all families who have donated to the BISL Make a Wish Holiday project. This has been a very worthwhile initiative and a great reminder to everyone to show how fortunate we are every single day. Reading the letters from the children has been very touching, and in some cases heartbreaking. It fills me with immense pride to see how our families rally together with a strong sense of kindness, to think of others first at this very important time of year for many children who have very little. The way in which our families have approached this has been incredible and we have a very thoughtful and caring community. Thank you.
I hope that everyone can enjoy a balance this weekend between being outside with friends and family enjoying the snow and also being inside, warm beside the fireplace!
A 'heads up', the BISL Christmas song with staff and students is coming soon...
Kind regards,
Paul Walton
Principal
You can take a look at our full article about the First Snowfall at BISL here, but I've also included some photos below:
Year 7 - 10 Art Exhibition
Our Year 7 - 10 Art Exhibition is now open for viewing!
If you haven't already done so, take a walk around our virtual exhibition to look at some of the excellent art work produced this term from Y7-Y10. It is absolutely amazing, well done to our students.
Be sure to look outside in the garden too!
Teacher Feature - Mr MacNeill
This week's Teacher Feature takes us inside the Science team, for an interview with Mr MacNeill!
Please can all parents drive slowly, safely and carefully in the car park for drop off and pick up. We all have a responsibility to create a safe environment for all children and adults on our site. Any breach of our guidelines will be taken very seriously as we need everyone to be as safe as possible when driving into the car park. We will continue working with the police to ensure that the speed limit is adhered to on connecting roads to our car park. Please work together and ensure it is as safe as can be for everyone.
BISL COVID Plan - since week beginning Monday 15th November
Masks - No Fabric masks please. Only Surgical or FFP2 masks are allowed as mentioned by the new government decree.
Canvas - will be used as the online learning environment for all students Year 2 and above. For EY and Year 1, the classroom teachers will email out if students transition to online learning.
Self-testing - the plan will continue for those that are not vaccinated or do not have consent from parents. The self-testing will continue to be supervised by our full time School Nurse, Teja Rismondo. We are very lucky to have an in-house, qualified medical professional who can work with our students and staff every day.
Vaccination Certificates and Evidence - this will continue to be checked for those that state they have had a double vaccination or have had Covid as we aim to be as safe as possible. Thank you to all students/parents who bring in a copy of evidence. Those that do not have double vaccination or have Covid immunity will take self-tests or transition to online learning as outlined by the ministry.
Please be as safe as possible as we navigate through the current high cases of COVID and I thank all parents, teachers and students in advance for following guidance both in the school and in our wider communities.
BISL Health & Safety Guidelines
We are following the general rules and guidance by the Ministry, WHO and NIJZ regarding distancing and hygiene, as well as the use surgical or FFP2 (ages 6+) masks. Please ensure that your child arrives to school wearing such an appropriate mask.
As a school, we have a direct contact with the ministry and receive specific instructions, following any changes in our situation, solely for our school community. These obviously, may differ from the general worldwide or regional guidance (shared by social media or aired by the news) depending on the cases in our immediate community.
A part of this guidance is to stay away from school if you show any symptoms and consult your doctor accordingly. As we enter the 'flu season', many of our staff, students and parents will have flu symptoms, and we ask everyone to stay away until you are tested if you show any signs.
If you are tested positive, stay home, and isolate accordingly, following further guidance from your doctor, as recommended by the NIJZ.
Over 95% of our staff are now fully vaccinated, or have recovered / still immune.
We also ask the community to stay away from friends and family who have tested positive or those that have symptoms and are awaiting a test.
If any staff or students are tested positive after contact at school, the whole class will transition to online learning.
We also want to be as safe as possible and ensure that the privacy of families is respected during this tough time.
We have updated our COVID-19 Declaration Forms for both Primary and Secondary for Block 3, thank you to all parents for completing these on time.
Ongoing daily clean of premises
Classrooms are well ventilated and classroom doors remain open
Key areas are cleaned multiple times a day (reception, classrooms, bathrooms, bannisters, door handles, etc.)
Drop off team continue to wear masks at all times
Declaration Form to be signed by all key visitors
Extra resources for hygiene available (sprays, wipes, gels, hand sanitisers, masks etc.)
Temperature checks when required
School Nurse available (full time)
All teachers are required to wear masks in key areas
Coronavirus Prevention guidance posters displayed around school
Smaller classes where necessary
Lunches and snacks are served in the new canteen following the guidance from NIJZ
Staff and parent meetings and events to be held online
Daily Review of all procedures by the Leadership Team
1. Have the pick-up and drop-off procedures changed?
No, pick-up and drop-off procedures continue as usual.
2. Can parents come into the building?
All parent meetings must be conducted online until further notice. For the few key organised events, parents will enter and exit from the building via the Assembly Hall and sign the COVID Declaration Form upon entry. Further details will be shared by the event coordinating teacher.
3. Will students go outside for break?
Students will continue to be encouraged and taken outside as usual every break time.
4. Should students bring in water bottles?
Yes, water bottles filled with water should be brought from home.
5. Will classrooms be ventilated?
Yes, classrooms continue to be ventilated regularly, and classroom doors remain open at all times.
6. Will there be hand sanitisers in every classroom?
Yes. Hand sanitisers are also available at the entrance and in common areas across the school.
7. Will online lessons be conducted during the day for students who choose not to attend school currently?
When the provision for students is at school, our teachers follow the usual timetables and teach the students in school. They will continue to upload work onto Canvas for students who are absent from school at the end of the day. If a Year group has transitioned to online learning, their lessons will continue online until that Year group returns. Once the Year group has returned to the school, the teacher will teach during the day and assist those absent by continuing to upload some resources from the school day.
8. Will school lunches continue to be available?
Yes, lunches will be served as usual in the canteen. Please order online as per usual.
9. Do all students and teachers have to wear masks in the classroom?
Students and teachers are required to wear masks as per the guidance below. We are in direct communication with the Ministry of Education and Health regarding updates on safety guidance.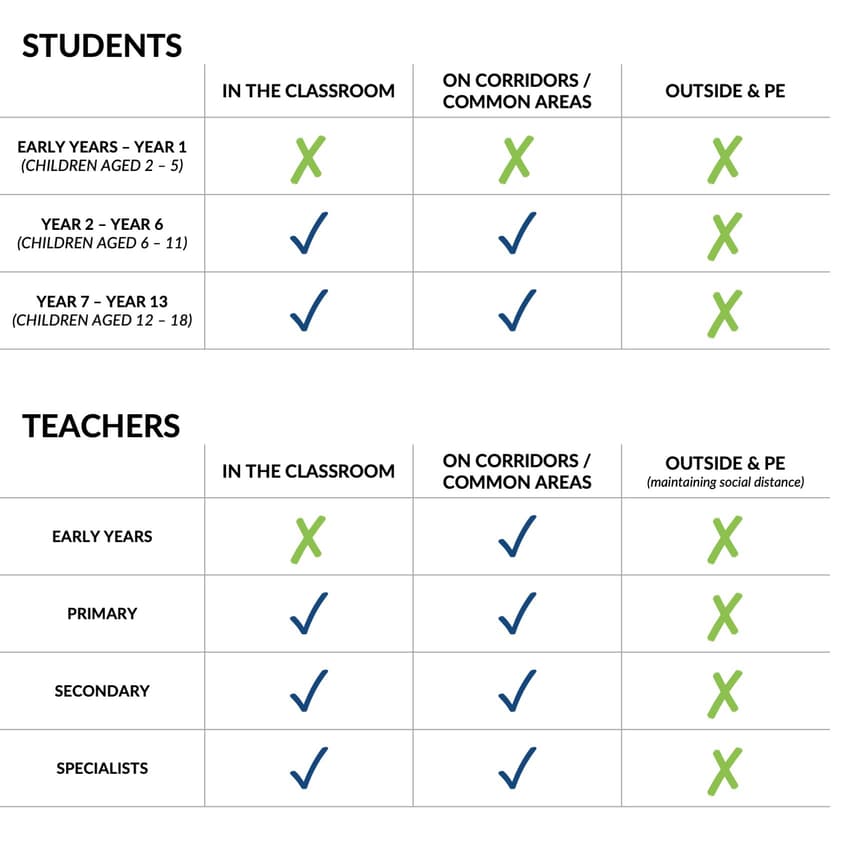 10. Can students wear fabric masks?
No. Surgical or FFP2 masks are required as recommended by the NIJZ.
11. Will the school provide surgical masks to students?
Limited replacements are available should theirs break during the day, however, all students are required to supply their own masks. Parents are asked to ensure their child has a mask prior to being dropped off.
12. Are teachers vaccinated or getting regularly tested?
Over 95% of our staff are now fully vaccinated or have recovered / still immune. Ongoing regular testing will continue for the remaining staff.

13. Will students have to complete self-testing?
Yes, as sent out on Friday 12th November, we will follow the guidelines shared by the Ministry, with parent consent, students from age 6+ will be self-tested on site under the supervision of our school nurse.
14. Where can I get self-testing kits?
These are available free of charge from any pharmacy. If your child does not have a Slovene health card, you may be asked for proof of enrolment, which can be obtained swiftly from school by emailing admissions@britishschool.si if required.

15. What kind of self-tests are accepted?
HAG self-testing kits (nasal swabs) for students in schools are available free of charge from any pharmacy, as per NIJZ directive.
16. How can I give consent to the self-testing of my child?
You will receive an email from the school on Monday 15th November with a link to complete to ensure that your child can self-test at school.

17. Will distance learning be provided if I do not give consent?
Yes, access to class work will be given to students who are on distance learning/do not give consent to self-testing. This will not be a 'real-time' link to the lesson, it will include activities shared with the student online via Canvas or through email.
18. How often will students be tested?
3 times a week, Monday, Wednesday and Friday.
19. Does the school provide the self-testing kits?
No. Families must obtain the self-testing kits from the pharmacy, free of charge, and bring it with them to school.
20. What happens if a student doesn't bring a test with them to school on the day of testing?
If a student does not bring a test with them, they will need to transition to online learning (according to the Minister of Education) immediately and are sent home, the student will be isolated and the parents will be called to take the student home or bring in a test for them to use immediately.

21. Can students leave spare tests in school?
Secondary students may leave spare test kits in their own locker, but are responsible for having a test ready on the days of testing (Mondays, Wednesdays and Fridays).
Primary students should have a test kit ready in their school bag on each day of testing (Mondays, Wednesdays and Fridays).
The school is not responsible for the safe-keeping of test kits.
22. Do vaccinated children need to self-test?
No.
23. Do those children who have had COVID in the past 6 months need to self-test?
No.
24. What happens if there is a positive case?
The student will be sent home to then see a doctor for further advice and guidance.

The rest of the class will transition to distance learning.

We continue to ensure that the privacy of those affected is respected during this tough time.
All urgent updates continue to be sent via email.
Please monitor your emails for future updates as this continues to be the best way to send out clear and consistent communication to all parents. Check that you are receiving emails, have enough space in your email folder, that they do not go to your 'junk' folder and if you are unsure, please contact reception@britishschool.si to check your contact email and phone number on record.
If you change any contact details, please inform the school immediately.