With students joining us from all corners of the globe, our fantastic English as an Additional Language (EAL) Team, led by Mr Siter, takes on the exciting challenge of ensuring that all students are equipped with the necessary language tools to enable them to make the most of their time here at BISL.
A huge writing enthusiast, some of you may know Mr Siter as the editor of our weekly Primary Newsletter, a passion which he enjoys combining with his teaching and free time. Inspired by the likes of Sir Ken Robinson, he relishes the opportunity to see children thrive in their English language development and takes pride in the progress his students are able to make during their time in the EAL programme.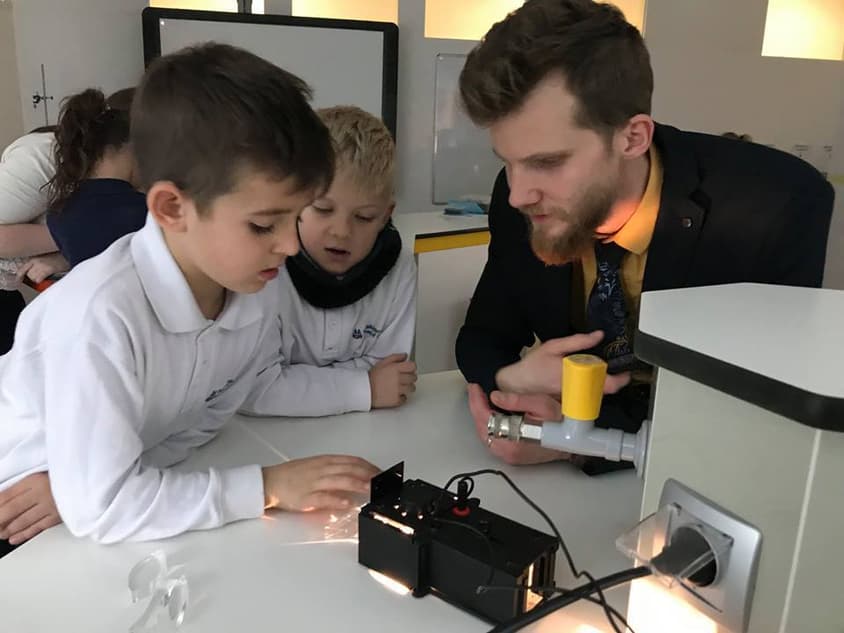 How did your journey as a teacher begin?
If I said I always wanted to be a teacher, I would be lying. As a boy, I dreamed of becoming a firefighter or a police officer, and sometime later, an actor. After graduation, I worked as a translator for a while and while translating a book by Sir Ken Robinson, I got an opportunity to teach at the Montessori School here in Ljubljana. These two events together have changed my view of education. Many of the people I know have not had a very positive experience - be it primary, secondary or even higher education. The education missed its purpose. It did not inspire the love of learning.
In my opinion, the major vocation of education is not pouring knowledge into students' minds, but rather igniting their passion for learning - making them life-long learners. It was my search for a school where I could do fulfil this that brought me to BISL.
Why did you decide to specialise in EAL?
The first and most obvious reason is passion. I have always had a certain passion for stories – mythology or fiction, film or writing, prose or poetry. This passion slowly planted a seed and nurtured to life a very special relationship with language itself and led me to the Faculty of Arts, where I studied English Language and Comparative Literature. After realising I wanted to become a teacher, the choice was easy – follow your passion.
The second reason is of a more practical nature. One of the greatest privileges of being a teacher is getting to see the fruits of your labour – witnessing your students' progress. In EAL this is more true than anywhere else. The headway I have seen some of our students make in one year is remarkable and I am very proud of their achievement.
What makes BISL such a unique place to work?
Looking back, I see how many of the teachers I met in my life lost their flair - not only for teaching itself but for the subject they taught. And once you have lost that, you can't presume to ignite the spark in someone else.
Sir Ken Robinson once compared the school system to restaurants - fast food restaurants who like to keep each step of the process standardised vs Michelin star restaurants, where you know the goal you have to achieve but can find your own way how. As a teacher at BISL, I have the opportunity to be creative in what I do and pass that creativity on to my students.
Working at BISL, I can teach language in a unique way - not only through grammar and vocabulary but also through stories, writing and games. Small class sizes enable me to get to know my students well, better understand the way they learn and enable me to cater to their individual needs.
In other words, it allows me to help students fall in love with learning.
How would you describe a typical day at BISL?
A typical day at BISL begins with a drop-off and ends with a pick-up. Somewhere in between, there is lunch. And a break. Everything else is anything but typical.
Students learn about mathematics by playing games, about music by playing in a band, science through experiments, geography by building models of the real world and language through reading and writing stories. They interact with each other, work in groups and rarely sit still during a lesson. This is what makes BISL so unique.
Why is the experience of an international education important for a student?
The globalisation of the world is on the move - and it is moving at a staggering pace. Not so long ago, a relatively small minority of the world's population had the chance to travel abroad. Most wouldn't even leave their hometown. This has changed drastically in the last centuries. Our children will not only be able to travel the world for entertainment and tourism but will also have an ever-growing opportunity to interact with people around the world professionally.
The world is changing, while the cultures often stay the same. And that is a good thing. The world would be a poorer place without the myriad of cultures around the world. In international education, students get acquainted with various cultures of the world - how people talk, act, what kind of food they eat, their beliefs, their fears, hopes and dreams. Other schools try to teach children about various cultures, but international schools provide them with the opportunity to experience it first-hand.
Tell me and I forget. Teach me and I remember. Involve me and I learn."
Benjamin Franklin
More from our Teacher Feature series